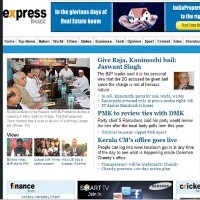 The New Indian Express ePaper
The New Indian Express Publisher : Express Publications (Madurai) Limited
The New Indian Express Language : English
The New Indian Express Newspaper URL : http://expressbuzz.com/
The New Indian Express newspaper published from : Orissa,Chennai, Madurai, Tiruchirappalli, Coimbatore, Hyderabad, Bangalore, Kochi, Bhubaneswar and Shimoga.
Click on the image to read Newspaper
The New Indian Express Newspaper
The New Indian Express is an Indian English-language broadsheet daily newspaper published by the Express Publications. It was founded in 1932 as the Indian Express, under the ownership of Chennai-based P Varadharajulu Naidu. In 1991, following the death of the then owner Ramnath Goenka, the Goenka family split the group into two separate companies. Initially, the two groups shared the Indian Express title, and editorial and other resources. But in 1998, the northern editions, headquartered in Mumbai, retained and renamed Indian Express as The Indian Express, while the southern editions became The New Indian Express. Today, the two newspapers and the two companies are separate entities. The newspaper is known for its intrepid and anti-establishment tone. Indian Express was first published on September 5, 1932 in Madras (now Chennai) by an Ayurvedic doctor and Indian National Congress member P Varadarajulu Naidu, publishing from the same press at which he ran the 'Tamil Nadu' Tamil weekly. But soon, on account of financial difficulties, he sold it to S Sadanand, founder of The Free Press Journal, another English newspaper.